FOR ENGLISH SEE BELOW
Solid Maybe
"niets is eenzamer dan niet te kunnen vertrouwen op je eigen hoofd"
Je hebt plekken waar de werkelijkheid vervaagd: de wachtruimte in een ziekenhuis. Een verlaten parkeergarage. Een vliegveld in het holst van de nacht. Plekken waar, als je ze lostrekt uit hun context, echt en nep lijken te versmelten. Dit soort plekken zijn er ook in je hoofd. Mensen die ervaring met depressies hebben kennen ze, mensen met een angststoornis ook.
In Solid Maybe laat Teddy je fantasie en realiteit met elkaar dansen. In een ondergrondse parkeergarage gevuld met projectieschermen zoeken drie generaties hoe met hun angst om te gaan. Het nieuwsgierige naïeve kind in al haar kwetsbaarheid. De opstandige puber zie zich bewust is van het gevaar, maar hier nog geen grip op kan krijgen. De volwassene met meer tools – door schade en schande verworven – om met de angst om te gaan. Solid Maybe neemt je mee op onderzoek: wie ben jij in verhouding tot je angst?
Wie zijn Teddy Shouldn't Smoke
Teddy shouldn't smoke is het Rotterdamse danscollectief van choreograaf Marijke de Vos. Vol humor en ironie, maar altijd op het scherpst van de snede, confronteert Teddy je met de duistere kant van je psyche. Bijzondere locaties zijn het decor van Teddy's rauwe en dynamische moderne dansvoorstellingen. Hier bewegen expressieve en explosieve dansers zich op het spanningsveld met verschillende kunstvormen. Teddy brengt ijzingwekkende identiteitscrises tot leven. Durf jij te kijken?
Over Marijke de Vos
NL Marijke de Vos (Vlissingen, 1986) studeerde in 2008 af aan ArtEZ Hogeschool voor de Kunsten Arnhem in de richting Dansmaker. In 2009 startte De Vos haar eigen dansgezelschap onder de naam Teddy shouldn't smoke, waarmee ze diverse producties maakte. De Vos maakt cross-border choreografieën waarbij ze graag samenwerkt met andere disciplines. Ze haalt inspiratie uit de natuurlijke reactie van het menselijk lichaam op onaangename situaties en speelt voortdurend met de grens tussen realiteit en verbeelding.
Language no problem
Duration: 60 minutes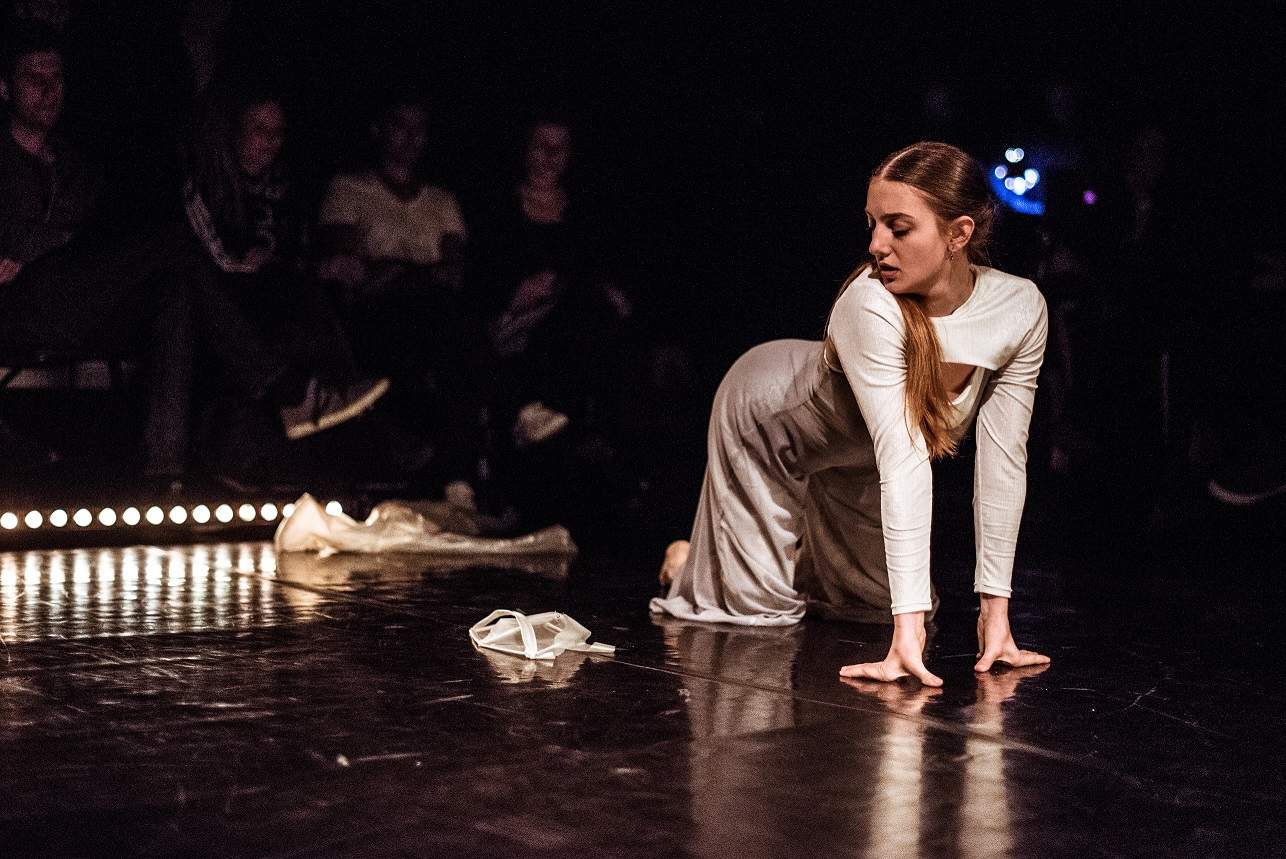 ENGLISH
Solid Maybe
"Nothing is more lonely than not being able to trust your own mind"
There are places where reality fades: the waiting room in a hospital. An abandoned parking garage. An airport in the middle of the night. Places where, when taken out of context, the real and fake seem to merge. These places also exist in your own head. People who have experienced depression know them, as well as people with an anxiety disorder. In Solid Maybe, Teddy makes your fantasy and reality dance together. In an underground parking garage filled with projection screens you'll find three generations searching for a way to deal with their fears. The curious, naive child in all her vulnerability. The rebellious adolescent who's aware of the danger, but cannot yet get a grip on it. The adult with more tools – acquired through pain and struggle – to deal with fear. Solid Maybe takes you on an investigation: who are you in relation to your fear?
About Teddy shouldn't smoke
Teddy shouldn't smoke is the Rotterdam dance company of choreographer Marijke de Vos. Full of humor and irony, but always on the cutting edge, Teddy confronts you with the dark side of your psyche.
Special locations are the stage for Teddy's raw and dynamic modern dance performances. That is where expressive and explosive dancers move on the field of tension with different art forms. Teddy brings gruesome identity crises to life. Do you dare to look?
About Marijke de Vos
Marijke de Vos (Vlissingen, 1986) graduated in 2008 from ArtEZ University of the Arts Arnhem in the direction of Dance Maker. In 2009, De Vos started her own dance company under the name Teddy shouldn't smoke, with which she created various productions for both in theatre as well as site specific works. De Vos likes crossing borders in her choreographies and collaborating with other disciplines. She draws inspiration from the natural response of the human body to unpleasant situations, constantly playing with the border between reality and imagination. In her performances she explores emotionality and the dark side of the psyche. Sometimes with irony, but bloody serious when needed.
Language no problem
Duration: 60 minutes
Credits
Concept: Marijke de Vos
Choreografie: Marijke de Vos i.s.m Alina Fejzo, Kalin Morrow, Viviana Fabiano
Dans: Alina Fejzo, Kalin Morrow, Viviana Fabiano
Film/visuals: Mihai Gui
Muziek compositie: Robbert Klein
Kostuums: Terror Kittens
Dramaturgie: Anne van de Wetering
Zakelijke leiding: Hedi D. Legerstee
PR & Marketing: Chabelle van der Pauw
Coaching: Ann van den Broek, Marjolijn van den Berg
Thanks to: TimeWindow, WORM, DOOR, Albeda Danscollege
Partners: WORM, DOOR, TimeWindow, Albeda Danscollege, Samen sterk zonder stigma, Maas Theater en Dans